CORRECT YOUR TOE POSTURE.




INSTANT PAIN RELIEF

 

FOR

 YOUR SORE AND TIRED TOES

Do you experience pains in your toes and foot joints? Chances are you have Hallux Valgus or Bunion.
What is Hallux Valgus or Bunion?
A bunion is a bony bump that forms on the joint at the base of your big toe. It forms when your big toe pushes against your next toe, forcing the joint of your big toe to get bigger and stick out, making your toe posture irregular. The skin over your bunion might be red or sore.
How do we get Hallux Valgus or Bunion?
We get Hallux Valgus from wearing tight shoes or heels over, or it can be hereditary. You would often experience swelling or redness around your big toe joint. Corns or calluses also often develop where the first and second toes overlap. You might find it hard to separate your toes and it gives great discomfort when doing so.
This Soft Silicone Toe Separator is designed to correct the posture of your toes and relieve your chronic pains. 
BUNION PAIN RELIEF:  Our protectors are all designed to eliminate the discomfort, pressure, and inflammation caused by bunions. Moreover, our Bunion correctors provide the cushions and support need to help the bunion area heal in a quick and comfortable manner.
PROTECTION & COMFORT:

 

Our correctors provide the padding and cushion necessary to protect skin while walking and exercising. Our padding as a buffer to shield the sensitive bunion area, and prevent painful rubbing from occurring. Physical activities will now be pain-free and enjoyable again.
BUNION CORRECTOR THAT CAN BE WORN WITH SHOES:

 

Our protectors can be worn discreetly with shoes, boots, socks, stockings and long johns for undetectable protection. Perfect for Men and Women, our correctors can be worn in all kinds of shoes including your most classy pair. Feel great and look your best with our bunion corrector protectors. 
SECURE & VERSATILE: Made for Men and Women alike, our bunion correctors sleeves will be secure fit. These bunion toe straightener sleeves are one size fits all and with a snug fitting your socks won't slide.
HIGH-QUALITY MATERIALS:

 

We utilize only the best materials to produce a perfect bunion protector. Made of durable, orthopedic, medical grade materials to instantly reduce the daily discomfort of a bunion and Big Toe pain.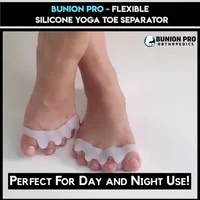 Features: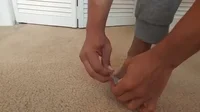 Specifications:

Type: Toe Separator
Color: White
Material: Silicone
Package List: 2 * Toe Pain Relief
NOT SOLD IN STORES!
ADD TO CART NOW for 50% OFF