Buy 1 Get 1 FREE
+
FREE Shipping Worldwide
Update:
**Due to high demand on this product, we're currently running low on this product, so please hurry and place your order.
This pocket fragrance features a filling system that is mess-free, practical and fast. Specially designed for spray fragrances, there is no need for funnels. Simply remove the nozzle from your bulky fragrance bottle, pump the pocket fragrance up and down on the tube and your favorite fragrance can now be transferred without wasting a drop on any spillage. 

At just 3 inches long, this sleek design holds up to 1.69 oz (5 ml) of fragrance for about 50 sprays. It is literally perfect for any occasion or activity. Just slide it into your pocket, handbag, pouch, office desk drawers or anywhere you can think of and you are ready to go.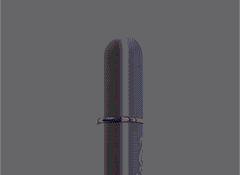 FEATURES AND BENEFITS
Compact and portable size which is Air Travel Approved Size (TSA-friendly).
Easy application - Refills in seconds without spills or contamination due to exposure to air or dust.
Holds up to 50 sprays.
Perfectly convenient for storing your favorite perfume / aftershave / facial mist / makeup remover without having to take the whole bottle with you or purchasing the travel size perfume which is normally higher priced than the original bottle size perfume.
Smells good and feeling great wherever you travel, after working out or after-work events.
Designed with a clear plastic vial inside to be able to check how much perfume remains.
Available in 13 attractive colors.
HOW TO USE?
3 Simple Steps (Refer to the figure below):
Remove the nozzle from your existing fragrance bottle.
Pump the pocket fragrance up and down on the tube.
Viola! You are ready to go!
PRODUCT SPECIFICATION:
Length: 3.1"(8.0 cm)
Diameter: 0.63"(1.6 cm)
Capacity: 1.69 oz (5 ml) / Up to 50 Sprays
Material: Light-weight Aluminum with inner plastic container
Colors: 11 colors as shown in product images.
Quantity: 1pc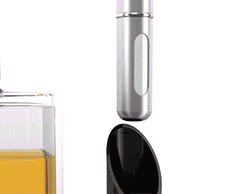 PACKAGE INCLUDED:

1 x 1.69 oz (5 ml) Pocket Fragrance Bottle (Does not come with fragrance)
NOTE: 
*Perfume catheter length should be ≥ 7mm, diameter ≤ 3.2mm. As the length and diameter are different in the perfume catheter, please confirm the size before purchasing.